About Our Veterinarian in Holden
In October of 1990, the Holden Animal Clinic & Supply, Inc., was opened to serve the Holden-Kingsville area. As a native of Holden, Missouri, Dr. Blum had a passion to return to his childhood town and provide state-of-the-art veterinary care. After Holden Animal Clinic & Supply, Inc., opened in a historical, downtown location, Dr. Blum made it his goal to continue to update and expand his veterinary practice.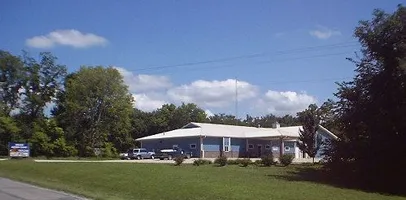 Just six years later, Dr. Blum established the current location. This building provided new services for small animals as well as a haul-in cattle working facility. The cattle working facility was built to make use of Dr. Blum's lifelong experience with cattle production and management. One of the best additions of the improved structure was a drive-thru window to pick up prescriptions, supplies, and account transactions. The drive-thru provides convenience and a quick 'in and out' for Holden Animal Clinic patrons. Dr. Blum's animal hospital has grown over the years as the preferred veterinarian in Holden.
In addition to offering the latest in vet services, Dr. Blum is committed to making new technological advancements in the practice. He and his staff desire to provide not only the very best in veterinary care but to use the most innovative techniques. The loving, compassionate well-trained staff strives to learn and grow in ways that will benefit our patients.
Our Animal Hospital
Holden Animal Clinic & Supply, Inc. is a comprehensive animal hospital that provides care for dogs, cats, exotic animals, and livestock. We offer a variety of services including routine pet care. We also have specialty care items to make sure you don't pay more than you should. Here is a list of the services we provide here at our animal hospital:
Wellness exams
Vaccinations
Flea, tick, and heartworm medications
Deworming
Dog reproductive care
Surgeries
Emergency care
Diagnostic testing including blood work, ultrasounds, x-rays
Dentistry
Nutritional counseling for livestock
Microchipping
Specialty supplies
Contact Our Veterinarian Today
With continued dedication, effort, and integrity, the team at Holden Animal Clinic & Supply, Inc., wants every visit to our animal hospital to be comfortable and stress-free for our patients and their owners. We want to partner with you to make sure your pet or farm animal lives the longest life possible. Our animal hosptial is conveniently located in Holden, MO. We are open Monday through Friday, with limited hours on Saturday to accommodate your schedule. If you are looking for a veterinarian in Holden, call us today to schedule an appointment: (816) 732-4412 or (800) 342-7680.