Welcome to Holden Animal Clinic & Supply, Inc.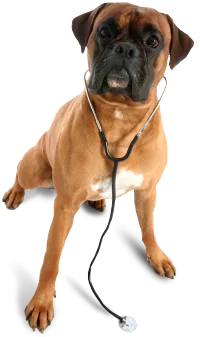 We're happy that you decided to visit the official website for Holden Animal Clinic & Supply, Inc. in Holden, MO. We're a comprehensive home for all of your animals' health and wellness needs. From routine care for dogs and cats to "house calls" involving your beloved animals, we want to serve as your trusted source of veterinary care. Take a moment to look through our site, learn more about our veterinarian, see our wide range of services, and reach out to us to schedule an appointment!
Your Trusted Veterinarian in Holden
Dr. Blum is the founder of Holden Animal Clinic & Supply, Inc. as well as our clinic administrator. An experienced veterinarian in Holden, Dr. Blum received his veterinary degree at the University of Missouri, studying both at the College of Agriculture and the College of Veterinary Medicine. This combination of veterinary expertise and agricultural background made him uniquely well-equipped to treat farm animals as well as domestic house pets. His special veterinary knowledge includes the treatment of large exotic cats and beef cattle. Even though Dr. Blum has stopped providing hands on livestock and large animal care, he is still available for consultations and assistance with your farm needs. Since founding this veterinary clinic in 1990, Dr. Holden has also served actively with the Missouri Veterinary Medical Association. You couldn't ask for a better partner in maintaining the health of every animal in your menagerie.
A Wide Range of Supplies and Services
Holden Animal Clinic & Supply, Inc. provides comprehensive veterinary care for dogs, cats, exotic and pocket pets. Our services include:
Routine wellness evaluations
Diagnostic services and technologies such as radiology, ultrasound, and in-house lab testing
Pet grooming
Dental and vision care
Reproductive care for dogs
Orthopedic, reproductive, cosmetic, and soft tissue surgery (including surgical referrals from other clinics)
Livestock nutritional support and management consultation
Cattle show supplies and equipment
Behavioral counseling and care
Laser therapy and laser surgery
This wide range of services makes us able to treat a similarly wide range of conditions. You can rely on our Holden veterinarian to help your pet with everything from dental problems and nutritional imbalances to reproductive disorders, disease treatment, chronic pain management, glaucoma screenings, injury repairs, and emergency medical intervention. In addition to our comfortable, kid-friendly facility, we can also visit your home to treat animals too sick to travel easily and conveniently.
Schedule Your First Visit with Our Holden Veterinarian
We look forward to meeting you and discussing your animals' current or ongoing veterinary needs. Call Holden Animal Clinic & Supply, Inc. today at or use our online contact form to schedule a visit with our Holden veterinarian!